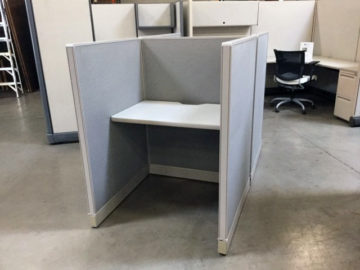 Used Haworth 3×3 Workstations
$249.95 Must purchase in sets of 2 - $499.90 per set
100 in stock
Used Haworth Telemarketing Workstations 50″ High $249.95 per set
Ideal for call centers, testing, employment application stations or other environments where privacy is necessary for work or phone conversations.
Gray Fabric panels with light gray tone worksurface and trim
Dimensions: 3′ x 3′ x 50″ height
These stations must be purchased in sets of 2.
Add:
Base Feed: $150
Power Pole: $200
Data Pole: $115
Installation: $125 per set
Purchasing Used workstations is a great way to maximize your budget when furnishing your office environment.
Not quite what you had in mind? Call and speak with one of our Design Specialists for assistance planning your office space 602-437-2224
Product Description
Used Haworth 3×3 Workstations